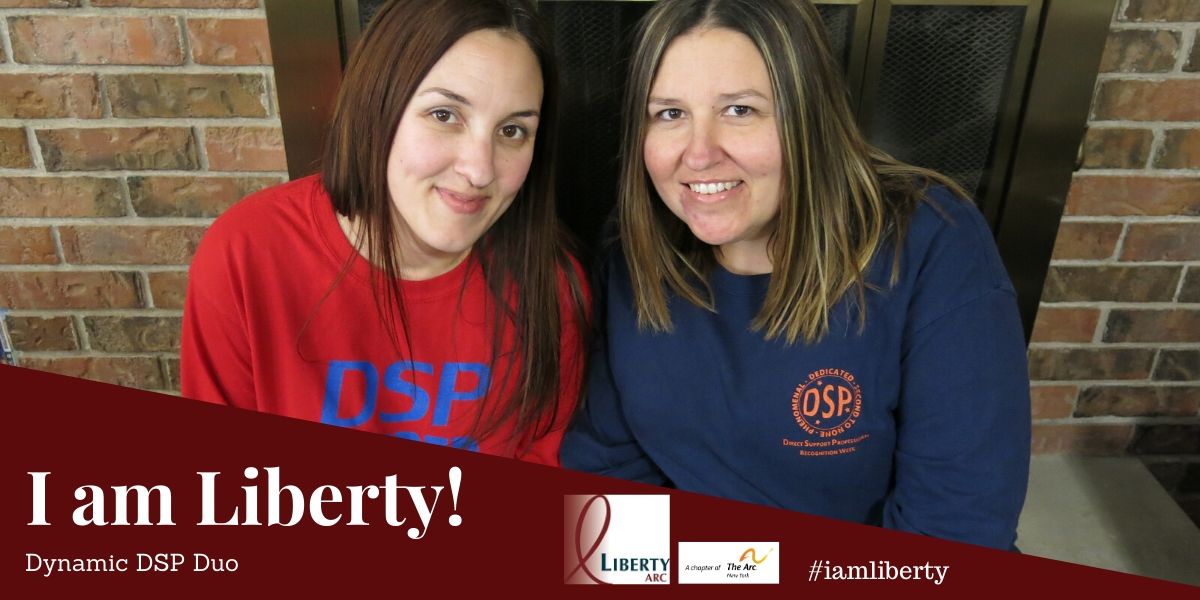 Erica Rickard and Sarah Snell have been together for 11 years as awake night Direct Support Professionals in the same residence at Liberty ARC.
"She's the best partner I've ever had," Sarah said.
"She's the yin to my yang," Erica replied.
Erica has been with the agency for 14 years, while Sarah's been here for 15. Both women started their careers at Liberty ARC as daytime DSPs, but after a few years they transitioned to the awake night shift.
"I wanted to work nights because I was going back to school and it worked really well with my schedule," Sarah said. "This was supposed to be a temporary job, but I've made a home here. The awake night schedule works for me now because I can be with my family and I don't miss anything."
"I agree," Erica said, "I don't miss anything in my kids' lives – I can see their games and everything they have going on, and still work. That's why I originally wanted to work this shift."
Sarah and Erica's nights consist of a lot of cleaning, laundry, meal prepping, bed checks and…ironing.
"We iron everything," Sarah said. "We were taught that everyone needs to look their best at all times, and that starts with crisp, ironed clothes."
Both women enjoy their jobs because of how smoothly their nights go together.
"We complement each other when we work," Erica said. "I know that Sarah will take the meat out of the freezer for meal prepping, because I'll forget. And she knows I'll always make the coffee for the night."
"We know what the other will do," Sarah said. "We respect each other. We don't always see eye-to-eye, but we respect each other. We work so well that we get confused as sisters."
"I like having a partner I can depend on," Erica said.
Despite arriving to work when most individuals are going to sleep, both women have developed close bonds with those they support.
"When we do bed checks, some individuals will be wide awake and we'll joke around with them," Erica said. "We also wake them up in the morning and help them with their morning routines. After so many years of supporting them, you develop a close relationship."
A relationship so close, in fact, that Sarah and Erica took one individual to the Bronx Zoo with their families, and threw the same individual an 80th birthday party.
"She's very special to us, and we like to show her," Erica said.
Both Erica and Sarah suggest the awake night DSP position for someone who requires a flexible schedule.
"This shift works really well if you're going back to school, or have a family and don't want to miss out on anything in your children's lives," Sarah said.
"This job also gives you the opportunity to support and care for people, which is very fulfilling," Erica said.
Click HERE to discover what job opportunities await at Liberty ARC!